# * # * Show full screen * # * #
With a total value of $ 27.851 billion, the world's 20 largest crane manufacturers grew 12.5% ​​in 2019 – over $ 3 billion from the overall ranking of $ 24.832 billion in 2018.
The figures used in the ICm20, which were published in November 2019, relate to the 2018 calendar year or the 12-month fiscal year ending March 31, 2019 (see below for more details).
While they show that the success of Chinese manufacturers had a significant impact on this year's ICm20 rankings, with XCMG, Zoomlion and Sany posting gains of 48, 83 and 78 percent respectively in their reporting currencies, they also show improvements across the board.
The 20 largest crane manufacturers in the world recorded growth, which in many cases was double-digit.
Top 10 crane manufacturers 2019
10. Sany
# * # * Show full screen * # * #
With two places more than in 2018, the Chinese manufacturer Sany climbed into the top 10 after a dramatic increase in sales. With an increase in sales of mobile, crawler, tower and truck cranes thanks to the Chinese Belt and Road Initiative, the company's sales increased by US $ 751 million in 2017 almost doubled to US $ 1,323 million in 2018, placing it in 10th place in the 2019 ICm20 ranking.
9. Palfinger
The Austrian manufacturer Palfinger, founded in 1932, moved up one place in the ICm20 ranking to ninth place with a total turnover of 1,551 million US dollars in 2018. In December last year, CEO Andreas Klauser announced that the company intends to strengthen its collaboration with China-based Sany and implement a structural turnaround that would expand it quickly. Since 2019 is almost over and Palfinger has recorded growth for every quarter of 2019 so far, business could increase even further in 2020 on the ICm20.
8. Tadano
Without taking into account the takeover of Demag by the Japanese manufacturer, which was completed in August 2019, Tadano was able to increase sales and profits for the first time in three years. The company's net sales for the twelve months ended March 31, 2019 were $ 1,720 million. The company thus rose to eighth place in the top 10 of the ICm20 2019.
7. Zoomlion
With 2017 sales of $ 978 million, almost doubling to $ 1,766 million in 2018, Zoomlion climbs to seventh place at this year's ICm20. The dramatic increase in sales is due to several factors, but was mainly caused by the increase in sales resulting from the infrastructure projects of the Chinese Belt & Road initiative in the domestic market.
# * # * Show full screen * # * #
6. Manitowoc cranes
In 2018, Manitowoc increased sales by nearly $ 300 million to $ 1,850 million in 2018. With sixth place at the ICm20, the manufacturer also opened a new plant in the Philippines this year and reorganized its top management team in Europe. Improvement of customer orientation and adaptation to the Americas and Asia-Pacific regions.
5. ZPMC
ZPMC, based in Shanghai, China, specializes in port machinery and high performance equipment. The state-owned company, which slipped one place to fifth place with sales of US $ 2,115 million in 2018, is said to have supplied container machine products for 100 quays in 100 countries, which account for around 70% of the world market share.
# * # * Show full screen * # * #
4.Xuzhou Heavy Machinery (XCMG)
From sales of $ 1,528 million in 2017 to $ 2,229 million in 2018, XCMG has moved up three places this year. The increase in sales, which is just outside the top 3, could be partly due to the company's expansion into other markets. According to China Daily, at Bauma China 2018, the manufacturer announced its plans to launch 84 new types of custom cranes overseas.
3. Cargotec
Cargotec is based in Finland and comprises the Kalmar, Hiab and MacGregor divisions. While the company's revenue was $ 2,468 million in 2018, down $ 20 million from 2017, the slight decline is likely due to its expansion. In 2018, the company completed the acquisition of specialist companies Effer and TTS, the financial impact of which will be reflected in the company's 2019 revenue and ICm20 2020.
# * # * Show full screen * # * #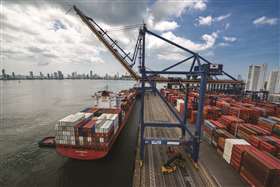 2. Konecranes, including Terex's MHPS
With sales of more than $ 1,000 million higher than Cargotec, Konecranes ranks second on the ICm20, even though it was $ 70 million less than in 2017. In 2018, the company had sales of $ 3,502 million, compared with $ 3,571 million in 2017.
1. Dear Lord
Liebherr is the only company in the top 3 of this year's ICm20 that was able to increase its sales. With a turnover of 3,907 million US dollars in 2018, Liebherr can easily maintain its first place. From 3,788 million US dollars in 2017, the range of mobile, crawler, harbor and ship cranes from the German manufacturer is used in almost all industries around the world.
To learn more about this year's industry trends, download the full ICm20 list or the full November issue of International Cranes and Specialized Transport here.
# * # * Show full screen * # * #
Financial information about the ICm20
The percentage changes in the article compared to the previous year are usually calculated in the reporting currencies of the manufacturers or supplied by the manufacturers. In some cases, where provided, they will be calculated from the numbers shown in the full table, which are US dollar conversions from the various reporting currencies. For the numbers in this year's table, the exchange rates of the reporting currencies in US dollars (October 29) were as follows:
1.00 euros = 1.11 US dollars (2018: 1.14)
US $ 1.00 = JPY 109 (2018: 122)
1 CNY (RMB) = US £ 0.14 (2018: 0.14)
US $ 1.00 = CNY 7.0 (2018: 7.0)
US 1.00 = RM (MYR) 4.18 (2018: 4.17)