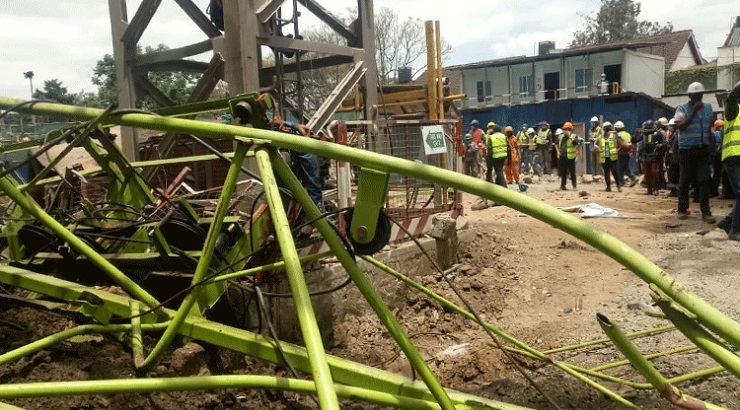 The scene where the Hurlingham tower crane collapsed. PHOTO | COURTESY
Nine construction workers were crushed to death and another slightly injured on Thursday after a tower crane collapsed on a construction site in the Hurlingham neighborhood of Nairobi.
The victims, including two Chinese, were in a group of ten workers dismantling the crane after it was finished painting before it suddenly collapsed.
The horror accident that happened at a hostel in Qwetu occurred shortly after 12:30 p.m. and caused people to flee in panic and confusion as they tried to understand the disaster.
Acorn Holdings owns the 14-story dorm, which is nearing completion across from the Department of Defense headquarters in Hurlingham.
70 meters
Eyewitnesses said they heard people scream for help only to see the crane carrying its human cargo quickly tumble to the ground – from a height of around 70 meters above the ground.
"We were at lunch when we heard things fall and thought part of the building was going to collapse," said Michael Odhiambo, a 27-year-old construction worker.
"When we got there, we discovered that a crane had caught and crashed," he said, adding that nine of the workers died on the spot while a technician got away with minor injuries.
It was a disturbing scene when nine badly mutilated corpses lay on the floor.
Full investigation
ZJCC Engineering and Construction Company, the Chinese company that carried out the project, offered condolences to the families concerned and offered a full investigation into the incident.
"We have now cordoned off the area and are working with the Kenyan Police Service and the Directorate for Occupational Safety and Health (DOSHS) to conduct further investigations into the incident," the company said in a statement.
RELATED: How to Prevent Construction Site Accidents
Preliminary results indicated that part of the giant tower crane collapsed during its decommissioning and nine technicians – seven Kenyans and two Chinese – were killed.
This is the second fatal incident involving a Qwetu hostel project in five months.
Two workers died
In March, Acorn halted construction on its Thika Road project near United States International University-Africa (USIU-Africa) after two workers were killed in a construction site accident.
The project – Qwetu Aberdare Heights – was 70% complete at the time of the incident.
After a four-week investigation, the National Building Authority and the Directorate for Occupational Health and Safety allowed the contractor, Wadia Construction Company, to resume work on the site.
Details of the test results were not published.
Acorn is known for its Qwetu and Qejani branded student dormitories and has the largest portfolio of dedicated student dormitories in sub-Saharan Africa with over 3,000 units.
The company, which has raised more than Sh8.5 billion for student housing projects, is currently working on the delivery of an additional 7,000 units.
 Grow Your Business With CK Ads. Learn more.
Continue reading…