The luffing tower crane Moritsch RTL 195
"The only oil we use is for bruschetta," says Mariano Moritsch, the man behind the crane, promoting the new RTL 195.
The Moritsch RTL 195 is an oil-free luffing jib crane, which is based on a patented mechanical solution to achieve a radius of eight meters with a 55-meter jib. The maximum load capacity is 16 tons.
Heathrow Cranes is Moritsch Cranes' only distributor in the UK. The first unit is to be set up in London on March 6th, eight more units have been ordered.
Hydraulic luffing jib cranes have become popular on British construction sites since German crane designer Franc Jost presented his design at the 2001 Bauma trade fair. They are an effective way of minimizing the radius of the out-of-service boom and avoiding sailing over neighboring objects.
But Moritsch – a name that is also associated with the innovation of tower cranes – has chosen a different approach.
Sales Manager Mauro Masetti explained: "When we started to look into this possibility too, we wondered if this was really the best solution to meet the real needs of customers, or rather, that this had become a trend that everyone was following wanted.
"We have the only benefit of hydraulic luffing jib cranes with reduced inoperative radius compared to the major disadvantages like oil leaks, generally complicated maintenance (particularly the hoist winch which is often positioned in the luffing jib) and above all of the size limitations that engineers encounter when designing large hydraulic luffing jib cranes because hydraulic units would become too complicated and expensive. "
He continued: "All hydraulic luffing jib cranes have a maximum load capacity of 6 to 12 tons, while the construction industry is increasingly switching to prefabricated parts and requires larger load capacities.
"At Moritsch Cranes, based on our 30+ years of luffing cranes experience and our knowledge of the UK market, we have developed a solution that eliminates all problems related to the use of hydraulic systems and sets no limits on creating models of any size.
"The RTL 195 is a traditional luffing jib crane with a maximum load capacity of 16 tons, with which you can park the jib at 82 ° for every jib length thanks to a patented mechanical jib lock, which results in a maximum out-of-service radius of eight meters when the jib is 55 meters . "
Moritsch plans to introduce this mechanical system in due course for larger sizes of luffing jib cranes.
The video here shows more.
.
The advertising material shows Mariano Moritsch himself what oil should really be used for.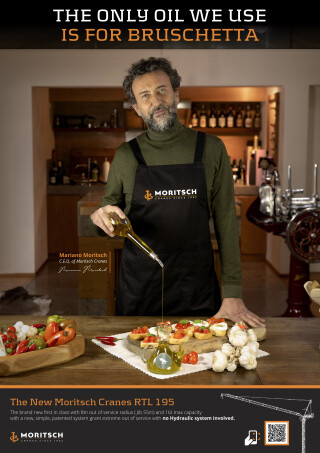 Do you have a story Email to news@theconstructionindex.co.uk