The United Arab Emirates-based developer Arada commissioned Raimondi Middle East to erect 11 topless tower cranes as part of the Aljada mega-project in Sharjah, the third largest city in the United Arab Emirates. Raimondi Middle East had previously erected 15 tower cranes on the construction site.
The cranes will be used to build the East Village – a residential area with 16 buildings and 2,000 residential units.
The cranes supplied include six Raimondi MRT111 and five MRT159 tower cranes. The MRT111 have a maximum capacity of 8 tons and currently work with jib lengths between 42 and 50 meters. They are freestanding with a height under hook (HUH) between 38.55 and 47.2 m.Raimondi says the MRT111 remains one of theirs
most popular models due to its versatility in tower height and its high performance lifting speed and peak load.
The Raimondi MRT159 have a maximum load capacity of 10 tons and are also free-standing. They have a HUH between 31 and 47.2 meters and boom lengths between 42 and 50 meters. The MRT159 flat canopy can be delivered on site with all parts pre-assembled, ropes passed and rope connections installed, says Raimondi, to simplify integration and installation on site.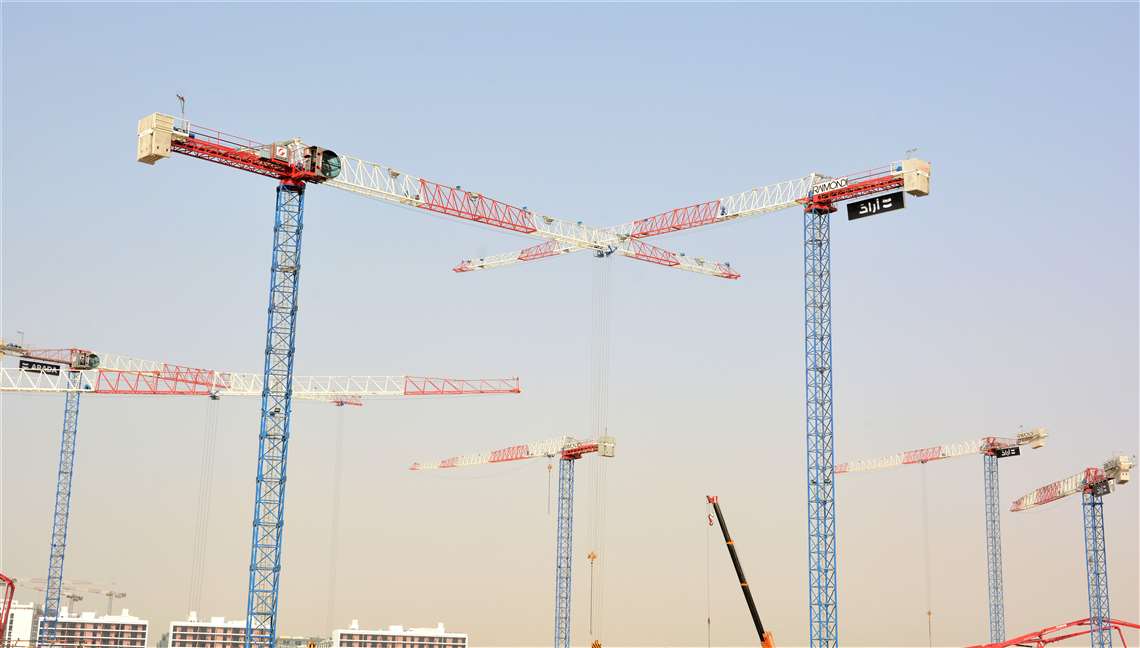 "The cranes are also equipped with the Raimondi Deluxe R16 crane cab and technically feature the latest iterations of the company," said Wael Hasan, Commercial Director of Raimondi Cranes Middle East. "Due to the design of the construction site and the large number of cranes working at the same time, the project presented special challenges. First, Raimondi Middle East's operational and technical departments had to strategically examine the plan for assembling and positioning the cranes
to ensure the efficiency and safety of the machine. Second, we focused on fast delivery and installation to meet customer's requirement. "
Each crane assembly took one day and comprised four groups of personnel. The cranes are positioned on three different plots under development and are expected to be on site over the next 12 months.