The devastating crane collapse that month on a construction site in Kelowna, BC, killing five people was not an isolated incident.
Cranes have collapsed at an eyebrow-raising rate across the country in recent years.
Just days before the Kelowna tragedy, a 15- to 18-foot crane crashed over the roof of the L Tower condominium in Toronto. The collapse came six years after a work freeze was issued due to safety concerns about a crane at the top of the domed building.
Fortunately, no one was injured in the L Tower's most recent ordeal. But it wasn't always like that. In June 2020, a crane collapse in Oakville claimed two lives and injured three others. In 2016, a collapsed crane in Montreal left one dead and another injured.
Terrifyingly, Toronto is no stranger to crane collapses (or cranes for that matter).
Last July, Toronto Police evacuated several buildings around Simcoe and Wellington Streets after a crane collapsed on one of them. The following month, a crane overturned in the Regent Park neighborhood, narrowly missing a young woman (he hit with her bike) and a male bystander. Then, in late November, a construction crane collapsed and fell into a hole in the ground at a Crosstown LRT construction site on Eglinton Avenue East and Mount Pleasant Road. Fortunately, as with the other incidents, no casualties were reported.
With Toronto still being the crane capital of North America – a place where speed counts on the construction front – the good news is that there are finally plans in place to ensure these slumps don't continue – both in Toronto and the rest of the world the country.
After the crane collapse in Toronto last summer, the Department of Labor, Education and Skills Development (MLTSD) conducted a provincial lightning inspection between August 31 and December 31, 2020. This move was of course in addition to the frequent visits by building health authorities and safety inspectors, who regularly inspect tower cranes and mobile cranes when they visit construction sites.
As part of the lightning strike, MLTSD dispatched inspectors across Ontario to review the inspection, installation and maintenance practices of tower cranes on construction sites. In total, the inspectors carried out 325 field visits, visited 161 workstations and issued 911 orders and requests, including 118 work stop orders.
"The department is working closely with its construction partners to improve crane safety and informing employers on how to comply with the OHSA to keep workers safe," said Kalem McSween, spokesman for the Department of Labor. Training and skills development. "We develop recommendations for updating the current regulatory requirements for crane safety."
In order to involve the stakeholders in this important update, MLTSD has provided a consultation paper to encourage people to share knowledge and concerns. The proposal consists of 20 recommendations targeting 6 priority areas:
Introduction of new reporting requirements for the use of tower cranes.
Clarify requirements for design, installation, maintenance and inspection requirements, including keeping records.
Reference to the Professional Engineers of Ontario standard of practice for reviewing tower cranes and clarifying the role and responsibilities of professional engineers in the design, assembly and inspection of tower cranes, including certifying tower cranes as safe to use after repairs or following a fault diagnosis.
Introduction of new and update of existing references to relevant national and international standards regarding the construction and operation of tower cranes.
Update and introduction of new training requirements for crane operators.
Dealing with technological advancement by adding new and specific requirements for self-erecting tower cranes.
"This work will result in updates and recommendations for any changes to current crane regulations," said McSween. "We expect to share the results of these consultations later in 2021."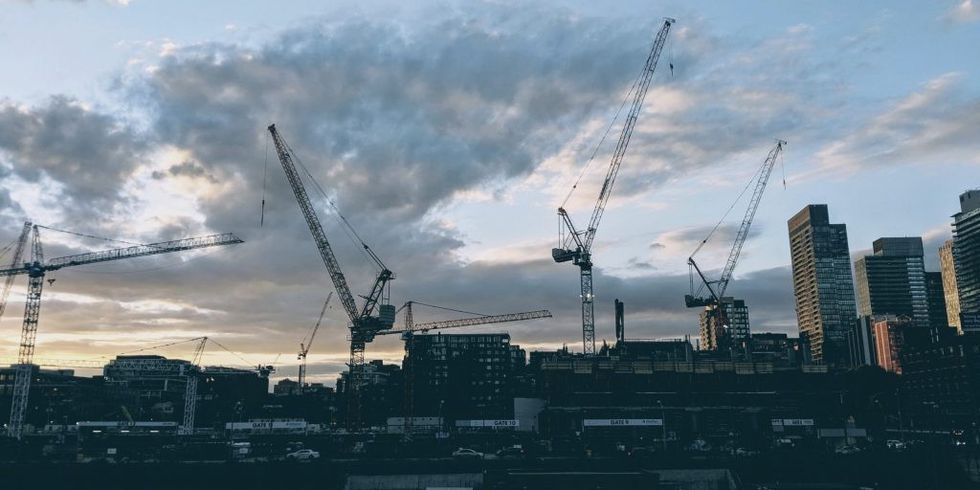 Photo by Omar Flores on Unsplash
Following the Kelowna tragedy, the International Union for Operating Engineers (IUOE) – a union that represents construction workers – required mandatory training and certification of crane erection and dismantling personnel across BC.
"Every worker has the right to go to work and expect to be able to return home safely to their loved ones," said Brian Cochrane, business manager of IUOE Local 115, workers in construction and industrial operations across British Columbia and in the Yukon Territory. "We urge the BC government to make mandatory training and certification of workers involved in the assembly and disassembly of tower cranes, minimum skill standards, and a roster of people involved in this industry."
The union has been campaigning for mandatory tower crane operator certification and improved industrial safety standards for the city of Vancouver for almost 20 years. It is thanks to the city that it recently launched a crane safety pilot project based on the recommendations of the IUOE.
It contains requirements for the following:
Meetings and checklists before and after assembly
Full closure of the lane and better traffic control.
Assembly and dismantling of tower cranes during the week.
Closure of pedestrian and cycle paths.
Larger staging and mobile crane installation areas.
Allow extensions of permits and additional full days to erect and dismantle the crane to relieve pressure on workers to get the job done on tight deadlines.
As advanced as these measures may be, across the country, including Ontario, these measures are long overdue.
"With decades of experience, IUOE Local 793 and IUOE Local 793, Operating Engineers Training Institute of Ontario (OETIO) training departments know that crane accidents happen for three main reasons: mechanical failure / lack of maintenance, operator error, and weather / environment. Terms, "said Mike Gallagher Business Manager, IUOE Local 793, who represents workers in Ontario and Nunavut. "All three can be greatly minimized through effective safety regulations and laws enacted by the government in the key areas of proper training, licensing and enforcement. From our point of view, all accidents are avoidable. "
Since 2008, IUOE Local 793 / OETIO and other crane industry stakeholders have been working on the Nationally Recognized Working Group to Review Tower Crane Regulation with the sole aim of improving the safety of tower cranes across Ontario. In 2013 the working group proposed to the Ministry of Labor a 44-page document with many recommended changes to construction projects, O. Reg. 213/91 according to the Occupational Safety and Health Act to improve the safety of tower cranes.
"Although the delay in implementing the proposal has been unacceptably long, we are pleased that the Ministry of Labor, Education and Skills Development (MLTSD) is proposing to modernize and clarify existing requirements for the use of tower cranes," said Gallagher.
However, the recommendations will not directly affect all crane work, including the building maintenance crane that was recently involved in the Toronto accident.
"More needs to be done to improve crane safety on all construction sites," says Gallagher. "IUOE Local 793 and OETIO will continue to work with the government to ensure that recommendations to improve the safety of tower cranes in the province are implemented to prevent unnecessary accidents at work and further protect worker safety."