It has teamed up with Versatils to test the new features of CraneView 4.0, which has a multi-sensor device mounted under the crane's hook. Versatile technology aims to increase the productivity and safety of buildings.
CraneView 4.0 is currently in use by Gilbane in the General Services Department of the General Assembly Building project in Richmond, Virginia.
The new 15-story legislative and administrative tower with an area of ​​38,000 m² is the central component of a comprehensive modernization program for the historic Capitol Square of Virginia.
Gilbane's project team has used daily data reports to measure, analyze and improve performance on crane utilization, site logistics, operations and safety for higher performance and improved schedules, as well as a safer and more efficient workflow for subcontractors.
By running multiple devices on multiple cranes, the project team was able to identify and mitigate outliers, duplication of handling, and inefficiencies in order to maintain optimal performance. The metrics provided by CraneView enabled the coordination of deliveries in real time as well as the management of picks and an efficient workflow. So far, the project team has determined a utilization of up to 90% in the steel assembly and 98% in the prefabricated facades.
"Our relationship with Versatile has enabled us to be at the forefront of new technology in the construction market," said Brett Thompson, senior project manager, Gilbane Building Company We look forward to seeing this knowledge guide us as we design our projects further strengthens. I think we have only just begun to see the potential. "
According to Gilbane, CraneView provides never-before-seen production data for the site that is sent to the project team via daily summaries. This enables real-time decisions regarding workflow adjustments that optimize productivity and increase security. Gilbane was able to incorporate other technologies into the project, including the Assemble software. Versatile's CraneView data is used with Assemble to provide a 3D virtual model for weekly progress snapshots and improved client communication.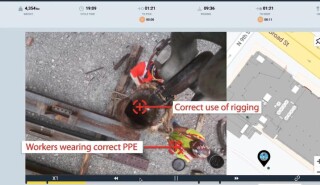 The company has determined that the combination of video and aggregated data that CraneView provides enables it to organize, review, or adjust the workflow. The bird's eye view also provides visual information for on-site and off-site personnel to assess the safety of the work in progress. The Gilbane and Versatile teams are working together to translate the new findings into on-site action.
"We selected the General Assembly Building team to test the new CraneView 4.0 based on their eagerness and suitability for new technology adoption," said Jason Pelkey, chief information officer of the Gilbane Building Company. They offer amazing insights enable our teams to achieve optimal results for our customers. We look forward to continuing our relationship with Versatile and expanding the use of CraneView to multiple projects in the future. "
Eclectic CEO and Co-Founder Meirav Oren added, "I was amazed at the leadership and innovation of the various teams I have worked with at Gilbane. Versatile is honored to serve the General Assembly project team with our latest technology and to show us inspiration new ways to act and benefit from all that CraneView has to offer. "
Do you have a story Email to news@theconstructionindex.co.uk