When forest fires are at their worst, as they have been for years, few more powerful weapons than the giant orange dragonfly that is the Erickson S-64 Air Crane helicopter.
Erickson bought the manufacturing rights for the S-64 Sky Crane from Sikorsky in 1992, changed the name to Air Crane and has been building, operating and improving the 21-meter-long bus super-heavy-lift helicopter since then.
S-64 pilot and training captain Keith Gill discusses the firefighting capabilities of the unique helicopter with Rotor Radio. Gill flies from Oregon for Erickson and has been tracking the fire season around the globe from Australia to Greece to the western USA for almost four decades.
https://rotorradio.podbean.com/e/fighting-fire-with-an-air-crane/
"There is no magic to fight fires," said Gill. "The sooner you get there and the sooner you put a lot of fire retardant on it, the faster you can put it out. It really is that simple. "
Gill explained how the S-64's Sea Snorkel can swallow 2,600 gallons of water from almost any source in 45 seconds while flying at 50 kilometers per hour. If a fire is 15 minutes from a reliable source of water such as a lake or the ocean, the aircraft can drop 40 to 45 loads of water on a fire in less than two hours.
There are exciting technological advances emerging for Erickson, the Air Crane fleet, and air firefighting in general. Erickson and Sikorsky have signed a development agreement to integrate Sikorsky's matrix technology for semi-autonomous and autonomous operation into the S-64.
S-64 pilot and training captain Keith Gill in front of an Erickson S-64 air crane that he has been flying for over 40 years. Keith Gill photo
The company is also developing an improved version of the aircraft called the S-64F +, which will feature new all-electric digital electronic control (FADEC) engines. Gill would not disclose which engine was selected, but said it was selected as a cockpit avionics and flight control system, as well as an improved water cannon.
As firefighters and their helicopters are not only feeling stricter, but are also lengthening in many fire-prone locations, Gill said. The future holds more fires to be put out and a possible shortage of pilots and maintenance personnel who will need specialized training to fill the spots vacated by retired firefighters, he said.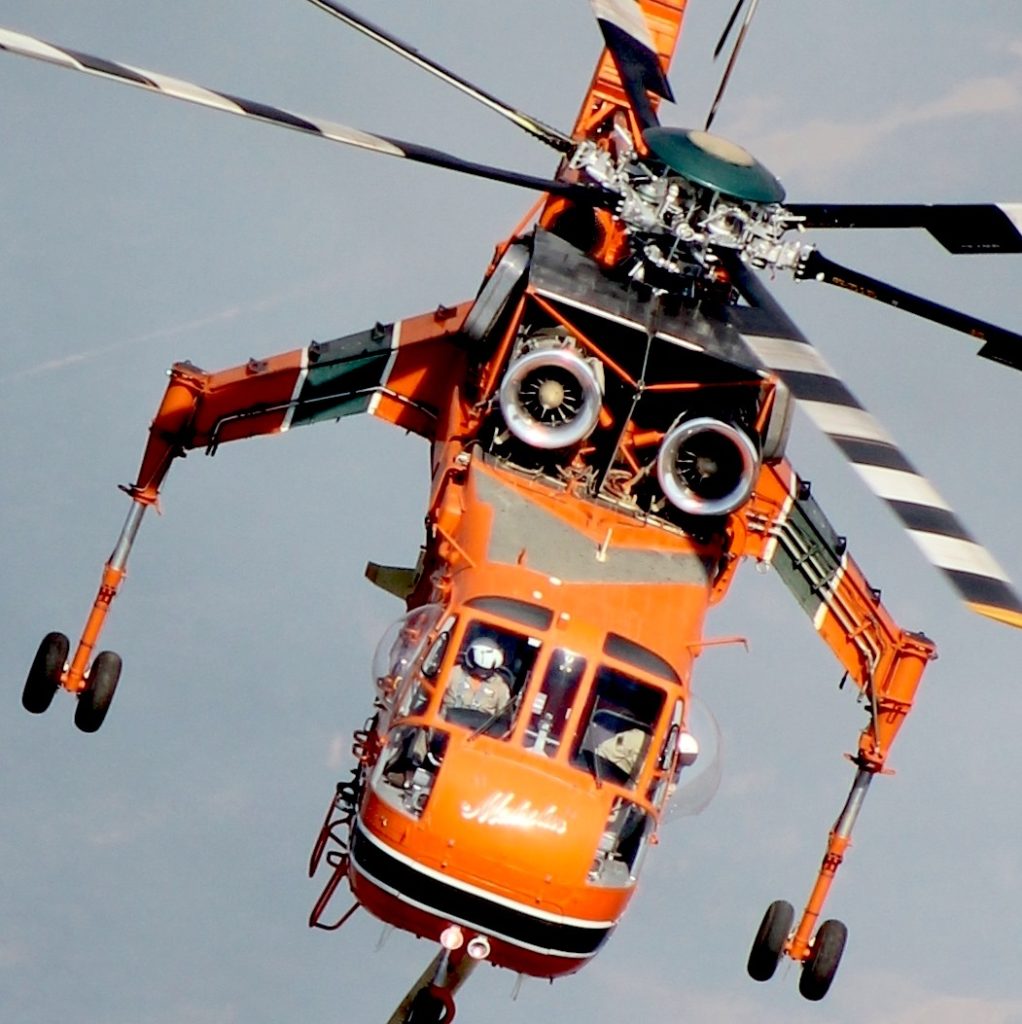 The S-64 is a twin-engine, six-wing giant that can swallow up to 2,600 gallons of water in less than a minute. Keith Gill photo